The King Tomislav Monument is one of the most instantly familiar symbols of the city of Zagreb, an equestrian statue that every day at the Main Railway Station waits to greet the travellers and at the same time dominates the cityscape of the Lower Town and the Lenuci Green Horseshoe. This virtual exhibition commemorates the 150th birth of the sculptor Robert Frangeš Mihanović, whose monument to Tomislav is his most impressive and important work.
The story of the monument, from idea to unveiling, taking in the casting, the lasting heated discussions as to where and how it should be placed, its final positioning and the changes it has undergone during almost a whole century is an extremely crucial and interesting segment of our art history and history in general, and one not known to the public at large.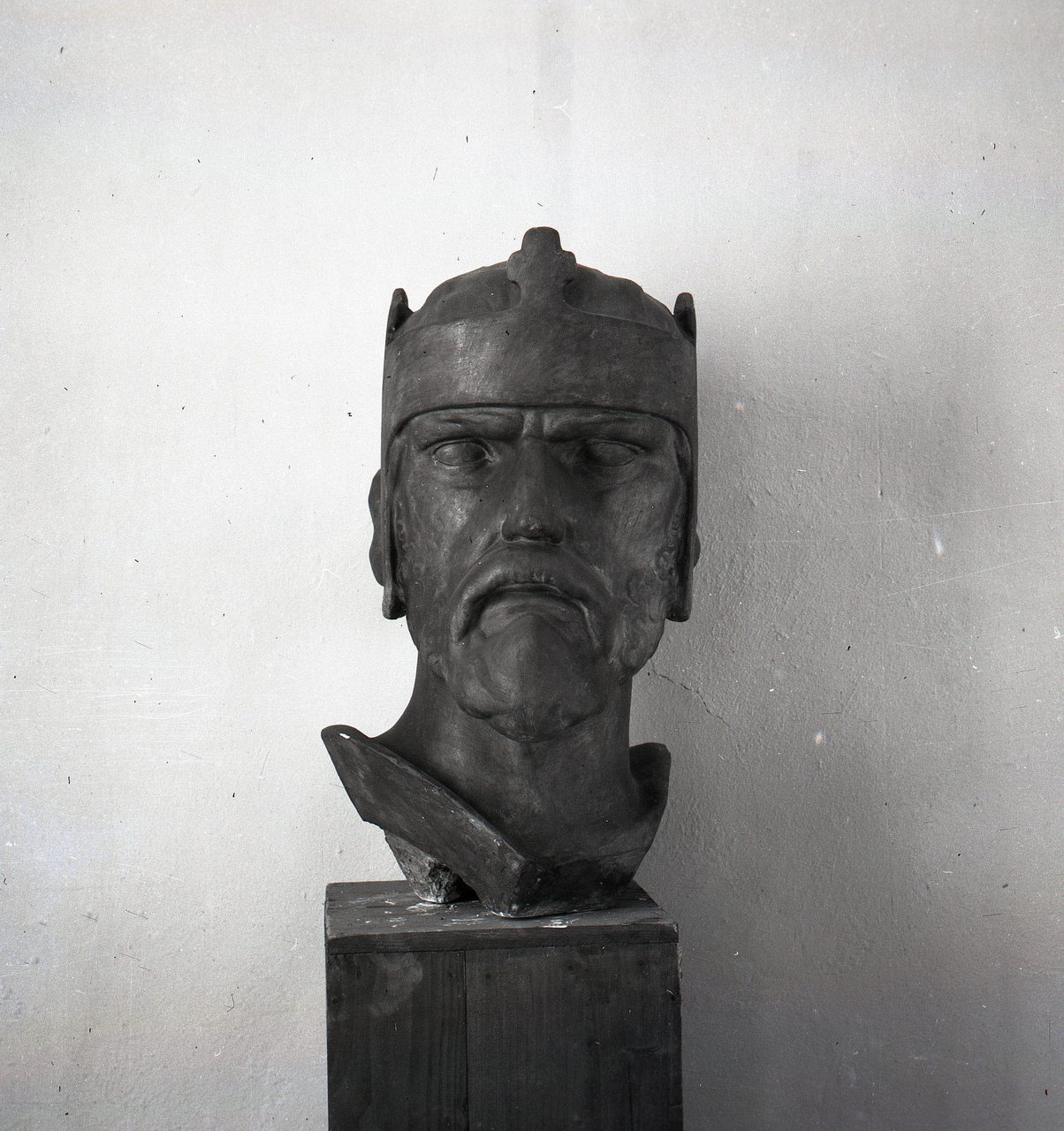 Head of King Tomislav, plaster, 1928-1938 (MZP-700)
In the exhibition we have tried to capture all these elements and to depict the monument through its historical and artistic worth. In its holdings, the Croatian Academy of Sciences and Arts Glyptotheque takes care of Robert Frangeš Mihanović's original plaster models and sketches for the monument as well as extensive photographic documentation and archival records. Also at our disposal are sketches from the competition for the replacement reliefs of the monument. The remains of the archival records used at the exhibition are shown thanks to the kindness of the Croatian Academy of Sciences and Arts Archives for Visual Art.
The exhibits are part of the Collection of Croatian Sculpture from the 19th to the 20th Century and the Collection of Medals and Plaques of the Croatian Academy of Sciences and Arts Glyptotheque and also of the Ambiental Collection of the Sculptor Robert Frangeš Mihanović owned by the City of Zagreb, placed for safekeeping in the Glyptotheque. It is actually these artistic and archival materials that are kept in the holdings of the museum that confirm the importance of the Croatian Academy of Sciences and Arts Glyptotheque as establishment founded with the objective of preserving the plaster casts and sketches of Croatian sculptors, retaining this function to the present day, a function that has countless times, as in the case of this monument, proved to be a crucial factor in the protection of the artworks.